I made falafel pitas with tzatziki sauce (using up some of my garden's cucumbers!)
I used Anne Burrell's falafel
recipe
They tasted awesome and I've made them twice now for dinner.
I used 1 can of chickpeas that I drained instead of soaking dry beans
One thing to note, everyone in the comments said to NOT flour these patties until you are ready to pan fry them. I chilled my chickpea patties without flouring them. When I was ready to pan fry them they needed some reshaping and then we floured them.
Ingredients for a falafel pita sandwich
Pita with pockets cut in half
Cooked falafel patties
Lettuce
Onions
Tomatoes
Tzatziki sauce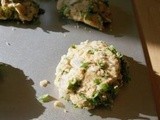 I used Emeril's
recipe
for tzatziki sauce as a guide. It was really good and I will be making it again. I think I'll be making this whole dinner again very soon.
1 medium cucumber, peeled and diced
1 cup plain Greek yogurt
1 tablespoon olive oil
1 teaspoon lemon juice
1 clove of garlic, minced
Fresh chopped dill
Fresh ground pepper
Dash of hot sauce (this was my kicked up addition, I didn't add Emeril's Essence ingredients)
I also threw in a few leaves of the fresh thyme since it was used when boiling the chicken peas in the above falafel recipe.