As you can see in our harvest photo we have many cucumbers and this is after I've given neighbors some of our extra cucumber, squash, and zucchini away! I made three jars of pickles with some of our cucumbers. We are growing pickling and slicing cucumbers.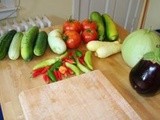 I used this
refrigerator pickle recipe
and also added some sliced onion to my jars.
Three clean jars with lids
pickling-type cucumbers, sliced into spears
3 cloves garlic, peeled
1 bunch fresh dill
1 Tbs. pickling spice (I bought mine at Williams Sonoma)
1 quart water
1 cup distilled white vinegar
4 Tbs. kosher salt (I used pink sea salt)
Half of an onion, thinly sliced
Add the water, vinegar, and salt to a saucepan. Bring to a boil and turn off the heat. Let the mixture come to room temperature.
Layer in the jars the dill, a garlic clove in each jar, some of the pickling spice in each jar, the cucumber spears, and top with the onion slices. Pour the room temperature brine into the jars. Refrigerate pickles for at least 2 days before opening and eating. We waiting exactly two days and we were very happy with how the pickles tasted.