Saturday, June 23, 2012
Catering for 200 plus people is quite a challenge but it's something my husband likes to take on himself instead of just paying for catering.
Appetizers
Chips
Salsa
Popcorn
Veggies
Dip
Grapes
Main course
105 pounds of pork butt
Turkey and vegetarian burgers
Sides
Coleslaw
Mac n Cheese
Baked beans
Dessert
Cookies, store bought and homemade
Texas Sheet Cake
M&ms
Sauces
My husband's homemade BBQ sauce
My husband's homemade Hot Sauce
Store bought BBQ and hot sauce
105 lbs of pork butts all rubbed the night before are getting unwrapped for smoking.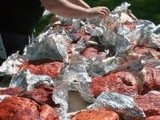 Posted by

living_insanity
at 6:57 PM
No comments:

Friday, June 22, 2012
I made the Vitamixer recipe for fresh tomato sauce last night. I really think it would be better with roasted tomatoes but that would add a lot of cooking time. I was surprised it called for brown sugar instead of white. I didn't taste a huge difference it was just different from a typical spaghetti sauce. I like that the only thing that came from a can was 2 tablespoons of tomato paste.

I overheard a woman at Fresh Market telling her kid that they couldn't have spaghetti and meatballs because it was almost noon and it would take too long. I made tomato sauce, baked chicken parm, and spaghetti last night for dinner and it took about 30 minutes. I feel bad for that kid who probably really wanted spaghetti and meatballs.
Spaghetti is one of my favorite foods!
Posted by

living_insanity
at 12:27 PM
No comments:

Sunday, June 3, 2012
Today the farmers market had garlic scapes. I bought a handful of them.
I also bought some squash that was not the yellow long neck or zucchini that we grow in our garden. I plan on making alfredo tomorrow with it all.

We also saw a quince at the grocery store and bought it on a whim. My hubby read an article about old fashioned fruits and it was mentioned. We will have to try baking into it's pink or red goodness. Also in the article were loquats which my brother remembers eating as a kid as jelly but I don't remember them.
Posted by

living_insanity
at 10:02 PM
No comments: