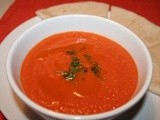 Recipe from
food52.com
Ripe tomatoes, cored and cut into quarters. We had about 8 tomatoes from ourgarden plus two heirloom from the farmers market.
Drizzle of olive oil
Salt
Pepper
Garlic cloves
1 sprig of rosemary which was also from our garden.
3 springs of thyme
(cream was part of the original recipe but I tasted the soup without it and liked the way it tasted. I saved myself some calories!)
Preheat the oven to 375 degrees.
Line a deep baking pan with foil. Something shallow like a jelly roll pan wont hold all the juices from the tomatoes as they roast.
Place the tomatoes cut side down on the foil and drizzle with olive oil.
Cook the tomatoes and cloves of garlic for an hour.
Let cool and then peel the skins off the tomatoes. We found that using your hands worked faster than trying tongs and a spoon.
Put the tomato pulp and juices into a large saucepan.
Peel the skin off the garlic and place the soft garlic in with the tomatoes.
Heat the tomato pulp and garlic until almost boiling.
Use an immersion blender to smooth the tomato soup into your preferred consistency.
Add salt and pepper to taste.
(This is where you can add some cream)
In a small sauce pan add olive oil and pick rosemary and thyme from their stems. Heat but keep the temperature low.
Place the hot tomato and garlic puree into soup bowls and drizzle with the herbed olive oil.