Well we had a week of holiday fun filled with stomach flu passed from one person to another. My brother's house was hit first with a few of the kids having a stomach flu. They were supposed to host Christmas Eve. We moved the dinner location to my parents house instead. My sister-in-law and two of the kids stayed home.
We threw together some keilbasa in bbq sauce (the same recipe I use for
bbq meatballs)
in the crockpot for an appetizer.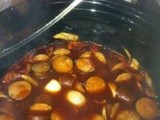 We made scalloped potatoes (not the same recipe I usually use, but my mother's recipe). I think I prefer Emeril's method!