The day after Christmas two more family members were struck with the stomach flu. My dad and my cousin who was staying at my parents house. We all made it to a dinner theater on the 27h to watch a performance of White Christmas though.
On December 28th my husband and I hosted a family dinner at our house. My brother called that morning to say he had caught the stomach flu (his kids had it first) and he couldn't make it. My uncle couldn't make it either because he was working. My dad came to dinner but was still trying to recover so he ate very little.
Our dinner menu
spinach artichoke dip
brie topped with macadamia nuts, brown sugar and brandy,
Standing rib roast
Roasted broccoli, carrot, and cauliflower
Mac and cheese
Tomato soup
Cheesecake with strawberry sauce
Tuesday night after the dinner theater show we started the meat. It needed to be scored, and rubbed with a mustard and peppercorn mixture.
This is Martha Stewart's rub and we tripled the amount because we had a 20 pound roast!
2 teaspoons dry mustard
2 teaspoons sugar
2 teaspoons Dijon mustard
Then I smashed black peppercorns to rub on top of the mustard mixture because the Pioneer Woman did a similar method on a beef tenderloin and it looked good!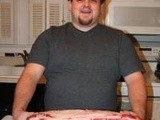 Brie Appetizer. A Paula Deen
recipe
I have used several times because it's so good. I always serve it with crackers and red and green apples.