My husband and I take breakfast over to my parents house on Christmas morning. We took
mini bacon cheddar quiche
and a
braided apple pastry.
This time I put the apple braid on a silpat and it came off so much better than putting it on wax or parchment paper! All of the family members made it for Christmas day. The stomach flu was lasting about 24 hours.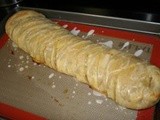 Our Christmas dinner is almost exactly like our Thanksgiving dinner
There were mashed potatoes, sweet potatoes, cranberry sauce and cranberry jello salad, corn casserole, rolls, asparagus, broccoli casserole, and gravy. Recipes for sweet potatoes, broccoli, and corn can be found
here.
Recipe for the crescent rolls can be found
here.