We went apple picking and I just had to make an apple pie. I found this
recipe
for a paleo pie crust. The crust tasted good but it was pretty crumbly when I was cutting the pie. I want to try to cook just the apple filling and then crumble this topping on top towards the end and bake it like a crumble next time.
1 Paleo pie crust
1 1/2 C Almond Flour
1/2 C Coconut Flour + more for dusting the board
1 tsp Raw Honey
1/2 tsp salt
1/2 C Coconut Oil
6-9 Tbsp Ice Water
In a bowl combine flours, honey, and salt. Cut in the solid coconut oil. Next add the water a tablespoon at a time until crust forms. I used the entire mixture to make a bottom pie crust. I smashed it into the pie pan with my fingers instead of trying to roll it out. My dough was too sticky to try to roll. Bake at 325 degrees for about 35 minutes.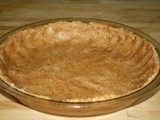 1 Apple pie filling
About 8 apples peels and sliced thinly
About a cup Coconut palm sugar
1/3 cup Coconut flour
honey
1 teaspoon nutmeg
1 teaspoon cinnamon
dash salt
Tablespoons of coconut butter to dab on top of filling
In a bowl mix together the apple pie filling. Pour the filling onto the pie crust. Dab some pieces of coconut butter on top of the filling and bake. Oven should be at 425 degrees and pie should bake for about 40-50 minutes. Cover the crust edges with tin foil to avoid burning.